Lamp
Lamp
4322 WAGAN WR600 LED Spotlight
Description
Product
IP68 Rated Waterproof
Ready for whatever Mother-Nature has to offer, the WR600 LED Spotlight has an ANSI FL1 IP rating of 68; it is dust proof and can be immersed in water for extended periods without damage. In other words, it can take on nature's worst.
Extremely Bright Light
Throwing a tight beam of light up to 810 feet with a good amount of spill, the smooth and focused reflector gives you the punch you need for long range work without sacrificing your peripheral vision.
Versatile Design
Featuring a bright and rugged ABS body with a shock-absorbing lens hood, the WR600 LED Spotlight is able to be located easily and can withstand the bumps of daily use. With the 7 position hanging stand, the light can be angled to illuminate your workspace.
Use it Anywhere
Suitable for camping, emergencies, road-side repairs, and nearly any other adventure, the WR600 will become your go-to light.
Illuminate and dominate the night with the Brite-Nite WR600 LED Spotlight.
Approximate Run times:
High setting: 1 hour
Medium setting: 3 hour
Low setting: 12 hours
Package Contents:
Spotlight
USB Charger
USB Charging Cord
Instruction Manual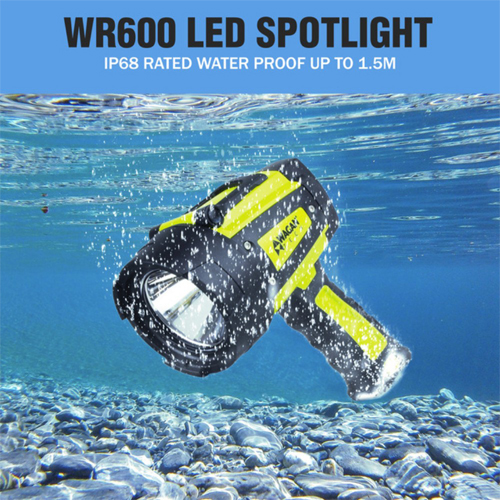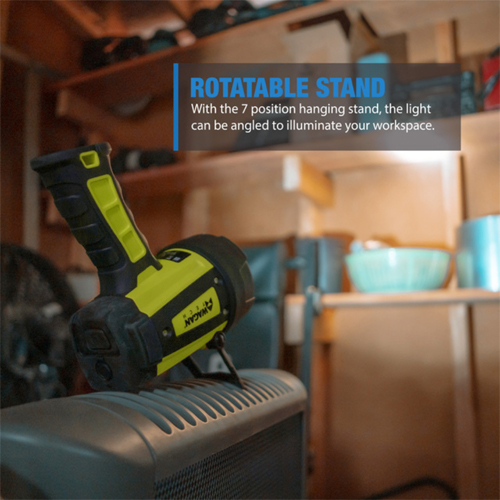 Specification
4322
Lighting Modes
High, Medium, Low
High Output
600 Lumens
Medium Output
200 Lumens
Low Output
50 Lumens
Beam Distance (High)
240 Meters
Light
Lumiled LED
LED life
20,000+ Hours
IP Rating
IP68 (ANSI FL1)
Construction
Heavy Duty ABS
Impact Resistance
Approx 3.3 ft (1m)
Battery
Lithium-Ion Rechargeable
Battery Specs
3.7V 1,800 mAh
Rechargeable
Yes
Recharge Time
2~3 Hours
Dimension ( L x W x H )
152.4 x 177.8 x 101.6 mm
Weight
0.5 kgs
Panel
User Manual
File Name
Last Updated
Download
Play